Download Part 2 of our "Guide to Inductors" eBooks:
Basics of Inductors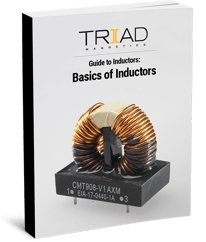 Inductors are used to store energy, create impedance, and modulate the flow of current. There are many types of inductors, as well as many core and winding styles, suited to different circuits.
Because they are a complex component with dozens of variables to choose from, inductors are a difficult product to select or specify.
The experts at Triad Magnetics have put together a guide, Basics of Inductors, to help aide in this process. Inside part 2 of our 3 eBook series, you will learn:
How to select the correct core material, shape, and size
The range of applications for inductors
Factors to take into account for inductor design
And more...
*This guide is intended to be a brief reference and not an all encompassing text book.
To download the eBook, please fill out the short form to the right >>
Don't forget to check out part 3 of this series, Guide to Inductors: Introduction to Power Inductors.