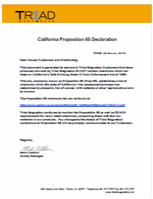 This document is generated to declare to Triad Magnetics Customers that items produced and sold by Triad Magnetics DO NOT contain chemicals which are listed on California's Safe Drinking Water & Toxic Enforcement Act of 1986.
Triad Magnetics continues to monitor the Proposition 65 as well as REACH requirements for newly listed chemicals, comparing these with the raw materials in our products.
Fill out the form on the right to access the California Proposition 65 Declaration.