Download Part 3 of our "Guide to Inductors" eBooks:
Introduction to Power Inductors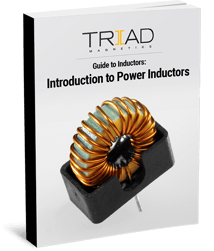 Power inductors are incredibly important magnetic components, found in everything from household appliances to the national power grid - any application that requires control of current.
In part 3 of our eBook series, Guide to Inductors: Introduction to Power Inductors, the experts at Triad Magnetics expand upon the basic information necessary to understand power inductors, including:
Common uses and applications
Electrical characteristics
10 factors to consider when choosing the right one for your project
And more...
*This guide is intended to be a brief reference and not an all encompassing text book.
To download the eBook, please fill out the short form to the right»
If you missed them, be sure to check out Part 1: Inductance and Part 2: Basics of Inductors.