Triad Magnetics is pleased to announce that we've recently been certified to ISO 9001:2015. The International Standards Organization's most recent quality management standard, ISO 9001:2015 aims to improve industrial operations and enhance client satisfaction around the world.
What is ISO 9001:2015?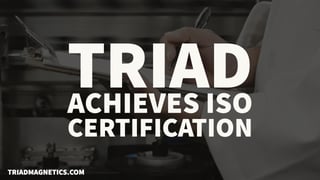 Released in September 2015, this standard is an update of the previous ISO 9001:2008. Companies with the earlier version of the certification have until September 2018 to upgrade their management systems to meet the new standard, and Triad is leading the way.
ISO 9001:2015 outlines requirements for businesses' quality management systems to ensure that all products and services are efficient, safe, and of the highest quality. By outlining set guidelines for improvement, companies can offer clients assurance of reliable, safe processes and consistent, quality work.
The ISO 9001-2015 standard helps those companies that implement it improve their overall performance and provide a sound basis for sustainable development initiatives.
What's New in ISO 9001:2015?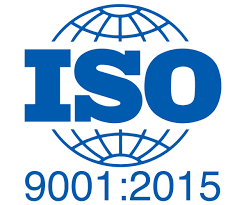 The ISO 9001 quality management standard now includes 10 clauses rather than eight. The ten clauses are as follows:
Scope
Normative reference
Terms and definitions
Context of the organization
Leadership
Planning
Support
Operation
Performance evaluation
Improvement
The new standard places an emphasis on risk based thinking. This enables our organization to determine the factors that could cause our processes to deviate from planned results, to put in place preventative controls to minimize negative effects and to make maximum use of opportunities as they arise.
The clauses are arranged according to the PDCA (plan, do, check, act) cycle model, to ensure all processes within a system are of optimal compatibility with one another, thereby streamlining production, decreasing downtime, and ensuring safety and consistency.
What Do These Improvements Mean for Me?
Committed to superior quality and service, Triad is proud to be an early adopter of the latest ISO 9001 standard. Here's what our ISO 9001:2015 certification means for you:
Placing a greater focus on potential internal and external issues, we can effectively prepare and plan for possible changes that may affect our quality management system.
ISO 9001 procedures streamline our processes, decreasing waste and speeding up turnaround times.
Increasing customer satisfaction is important to us; ISO 9001 provides solid framework for us to do so.
With more emphasis on top-management engagement with ISO 9001, all employees will be even more actively involved in our quality management system.
By empowering our employees and improving operational consistency, ISO 9001 allows our staff to do better work in a more organized, efficient environment.
Obtaining ISO 9001 certification places Triad in an elite international group of top-quality providers, so customers know exactly what to expect when working with us.
At Triad Magnetics, we believe great service is the result of constant improvement and innovation. Our recent certification to the ISO 9001:2015 standards reiterates this commitment to progress, and, most importantly, to providing our clients with the highest-quality service.
Download our newest version of the ISO 9001 Certification now.