Every year, the Applied Power Electronics Conference and Exhibition (APEC) attracts some of the most well-known leading power engineers in the country. Whether delving into the various uses of semiconductors or demonstrating cutting-edge design tweaks to improve the efficiency of power instruments, APEC has something to pique everyone's interest.
The Legacy of APEC
When many people think of industry conferences, they think of boring keynote speakers, awkward brunches, and rehashed content that's been doing the rounds on industry blogs.
But APEC is different. A multi-day marathon of power electronics, custom magnetics, and applied electronics know-how, this leading industry conference offers a huge range of seminars, lectures, networking events, and professional education opportunities.
While other expositions may focus mainly on recent breakthroughs in the industry, APEC is more multifaceted: It not only covers the most groundbreaking innovations in practical electronics, but also presents some of the most renowned leaders and innovators in the industry. These influencers are on hand for various lectures and events, distilling the latest academic research and findings and showing companies how they can benefit from exciting new advancements and innovations.
In 2018, the APEC gathering was held at the Henry B. González Convention Center in San Antonio, Texas, from March 3 to March 9.
Some noteworthy sessions included:
Capacitor and magnetics workshops
Discussions and workshops on the future of energy and the role sustainable energy will play in the industry moving forward
Technical Deep-Dives™ into electronics transformers, with comprehensive displays by power electronics luminaries
Events on power and core-control technologies, highlighting the strides made in the field
The illuminating Women in Engineering (WIE) breakfast event
Leadership sessions to help suppliers, researchers, and vendors in applied electronics continue to serve shifting market demands and improve existing technologies
Custom Magnetics from Triad
Triad is proud to be a forerunner in the field of custom magnetics, offering an impressive array of OTS power transformers, current sense transformers, audio transformers, and engineering kits and solutions.
At the transformer-focused APEC 2018, we displayed our entire range of custom magnetics products, helping attendees navigate the various factors that can impact operations, such as choosing input specifications and balancing turn ratios.
The team at Triad designs parts that conform to applied electronics best practices, meeting the highest quality and safety standards. Clients can easily order custom solutions with the confidence that they will never experience uncontrolled temperature spikes or distortion of output signals.
In particular, we highlighted our CST25 current sense transformers at APEC 2018.
CST25 Current Sense Transformers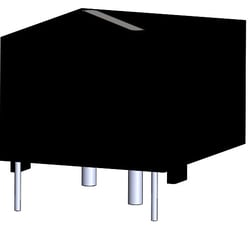 Triad's CST25 garnered a lot of attention at this year's APEC.
The entire CST25 series is specially designed to allow for optimal user convenience, featuring built-in sense winding, reliable encapsulation to isolate the primary and secondary coils, and device sensitivity ranging from 1:50 to 1:1000 turns ratio.
Ideal for harsh conditions, CST25's high current sampling capacity — with primary supporting up to 25 A — and general robustness make these transformers a perfect fit for switch-mode operations, monitoring, circuit protection, and control.
Learn More
Are you an applied electronics maverick on the lookout for the latest industry news? Follow Triad Magnetics on LinkedIn and Twitter to ensure you stay abreast of the latest trends and innovations. And be sure to stop by our blog regularly for helpful thought pieces and quick information updates.
To learn more about Triad's custom transformers and other product offerings, check out our comprehensive product catalog today.