The 32nd annual MD&M West trade show — North America's largest medtech conference — took place at the Anaheim Convention Center from Tuesday, February 7 to Thursday, February 9.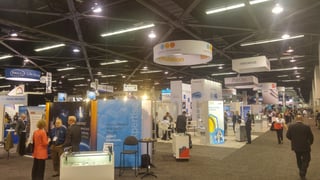 This year's event was larger than ever. Over 20,000 attendees came to see more than 150 speakers, including Jamie Hyneman of "Mythbusters" fame and had the opportunity to attend over 160 sessions and panels centered on three main topics: medical product development, user-centric design, and smart manufacturing.
Many industry-leading medtech professionals — from design engineers to company executives — attended and spoke at the event, and over 2,300 exhibitors presented, representing every aspect of the diverse medical device design and manufacturing field.
Triad Magnetics also attended this year, displaying several of our medical magnetics components at Booth 325.
Triad at MD&M West — Booth 325
Triad showcased our medical-grade magnetics — in particular, our MD Series Isolated Power Supplies and our VPM Series Medical Power Transformers. Triad's expert engineers designed the MD and VPM series with a number of unique design features, setting them apart from standard industry products.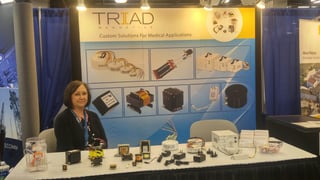 Medical-grade magnetic components like transformers and power supplies must meet strict guidelines, necessitating a higher level of performance and a more thorough, robust design than similar magnetic products used in more traditional commercial or industrial applications. For instance, leakage currents must be isolated from patients, and wavelengths of electrical noise must be reduced or eliminated, as they can cause diagnostic and patient-monitoring equipment to malfunction.
Our MD Isolated Power Supplies and our VPM Medical Power Transformers have been carefully designed and tested in-house to ensure they meet or exceed the rigorous performance criteria required by medical industry standards.
About Triad Magnetics
For over 60 years, Triad Magnetics has been a leading designer and manufacturer of inductors and transformers for a range of industries, including the medical field.