The Triad Magnetics MD Series provides an isolated AC power source for safe and reliable power delivery. In fact, the MD Series can currently be found in applications where safety and reliability are tantamount: medical, laboratory, and industrial settings.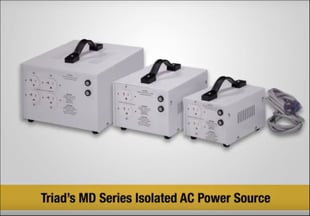 These compact, portable, and highly (97%) power efficient units are designed with Class F insulation, so they can withstand the rugged environments they may operate in.
Available in multiple 2 or 4 receptacle configurations, the MD series are a truly versatile power source:
Power range: 250 to 2,400 VA
Input Voltage: 120 or 240 VAC

± 10%, 50/60 Hz

Output Voltage: 120 VAC

Voltage Regulation: up to 5% typical

Hipot Test: input to output: 3000 VAC
Max Operating Temperature: 60°C
Earth leakage current: typically 10

μA
If you want to know more, the MD Series promotional video should answer most of your questions about the product.
If you have any other questions regarding any of our products or services, we encourage you to browse our website and view our full line of magnetic and electronic components. You can also contact us directly.