Triad Magnetics is thrilled to announce that we'll be exhibiting at APEC 2017: the Applied Power Electronics Conference and Exposition. The premier event for applied power electronics, this conference will bring together industry leaders from across the globe. Held at the Tampa Convention Center in Tampa, Fla., from March 26 to 30, APEC will feature various educational seminars, networking events, and exhibitions, allowing attendees to connect with fellow industry professionals while viewing new technologies.
Visit Triad at APEC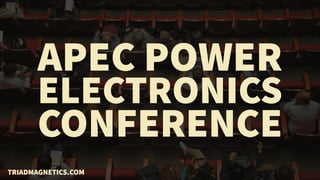 Triad will be exhibiting at APEC 2017, showcasing our full inventory, including transformers, inductors, high-frequency magnetics, and power supplies. We'll be on hand to answer questions, and attendees will have the chance to view some of our signature products, including:
PC and chassis mount low-frequency (50/60 Hz) laminated power transformers and inductors
Control transformers
Low-frequency (50/60 Hz) toroidal core transformers and inductors
Wall plug-in power supplies
High-frequency switching power transformers and inductors
LED drivers
Common mode chokes
Current sense transformers
Unique custom-wound magnetic devices and assemblies
About APEC 2017

APEC focuses on both the practical and applied aspects of the power electronics sector, offering valuable opportunities for industry professionals of all types — from equipment OEMs, component and assembly manufacturers and suppliers, and power supply designers to engineers, compliance and quality specialists, and business professionals.
The full schedule of professional educational seminars and industry and technical seminars will be complemented by exhibitor seminars, special presentations, competitions, social events, regional tours, and technical lectures.
Custom Components from Triad Magnetics
At Triad, we pride ourselves on our commitment to quality and constant innovation. Our experienced design engineers partner closely with customers to create customized, reliable solutions that meet specific needs and requirements, no matter how complex.
For more information about our custom work, or to learn more about the APEC conference, reach out to the team today. We hope to see you there!