Triad Magnetics is proud to announce that we will be exhibiting at the NAMM Show at the Anaheim Convention Center in Anaheim, California from January 24 – 27.

Hosted by the National Association of Music Merchants (NAMM), the NAMM Show is the premier event for the music, sound, and event technology product industries. The four-day event brings together re-sellers, end-users, distributors, and influencers from all over the world to showcase, discuss, and share the latest, cutting-edge technologies in the industry.
Triad Magnetics in the Audio Industry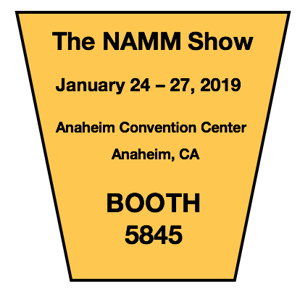 Triad has a long history serving the audio and sound processing and distribution market.
Dating back to the 1950's, Triad became a pioneer by pushing the boundaries of what magnetics could do for sound. Our engineers successfully engineered and manufactured the world's first 100 W output transformer, which revolutionized the speaker technology world. Working with Fender and surf-rock pioneer Dick Dale, our 100 W output transformers became an integral component in the world's first 100 W guitar amplifier.
During the transition from black-and-white to color broadcasting in the mid-1960's, Triad was again pushing the boundaries of what magnetics could do – becoming a primary audio transformers supplier for television manufacturers.
In recent years, Triad has not let up on our commitment to innovation and excellence in the audio space. We recently renewed our NAMM membership, emphasizing Triad's commitment to creating quality magnetic components that meet NAMM's high standards. Our products are used in numerous applications including guitar effects pedals, sound distribution products for concerts, guitar amplifiers, microphones, and more.
Visit us at Booth 5845
Triad will be at the NAMM Show throughout the entirety of the event at Booth 5845 showcasing our expansive collection of standard products designed specifically for the audio industry. Some of the products you will see at our booth include:
Learn More
Triad Magnetics is an ISO 9001:2015 certified manufacturer of standard and custom magnetics solutions. We offer a wide range of industry-leading products for customers across a diverse industry landscape, including audio, medical, industrial and commercial equipment, power conversion and measurement, renewable energy, food and beverage, and more.
To learn more about Triad's involvement in the audio industry, or to see how we can help you with your next project, feel free to contact our experts today.