An annual event, DistribuTECH is the premier conference and exhibition for all matters electric power transmission and distribution. Every year, the event draws expert presenters, panelists, and exhibitors to address the constantly adapting technologies that help to move electricity from its source at a power plant, through both the transmission and distribution system, and ultimately to homes and businesses.
DistribuTECH 2016 was a record year — more than 11,000 attendees from 78 different countries traveled to San Diego to hear from 345 of the field's top experts and thought leaders (including representatives from electric, water, and other utilities) in more than 98 sessions and courses spread over 14 conference tracks. They also visited more than 500 companies exhibiting in 143,551 square feet of space.
DistribuTECH 2017 promises to be even larger — held at the San Diego Convention Center in San Diego from January 31 to February 2, it will feature 15 conference tracks, 80 sessions, and more than 350 speakers covering topics ranging from distribution automation to renewable energy.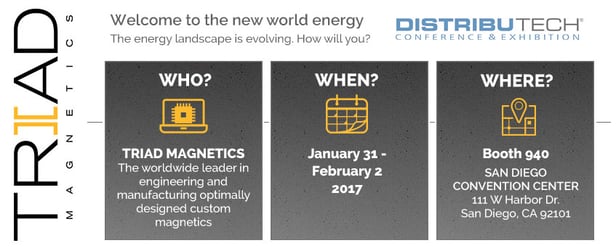 Triad at DistribuTECH 2017 — Booth 940
2017 marks that first year that Triad Magnetics will be attending DistribuTECH as an exhibitor, so be sure to visit us at Booth 940 in Hall H of the convention center.
We will be displaying a wide range of our coils, inductors, reactors, and transformers, notably those with applications in alternative energy and renewable energy applications. The centerpiece of our exhibition will be a showcase of transformers and reactors custom designed and built for clients in the renewable and alternative energy field.
Many of these coils are 3-phase transformers and reactors with power ratings of between 25 KVA and 500 KVA. These inductors were designed for use in DC to AC inverters — solar and wind renewable energy sources generate power in DC voltage and store it in batteries, and DC to AC inverters convert that DC voltage to AC voltage, stepping it up or down as the system requires, before sending it to the transformer and ultimately to points of use.
Join Us at DistribuTECH 2017
We have been a leading designer and manufacturer of transformers and inductors for more than 60 years, and we are proud to be bringing our knowledge and expertise to DistribuTECH 2017.
You can join us there — for free! To redeem a free exhibit hall pass for DistribuTECH2017, register here or complete this simple form to download your pass.
See you in Hall H, Booth 940 at DistribuTECH!