Triad Magnetics is thrilled to once again exhibit our extensive line of standard and custom magnetics solutions at the Sensors Expo & Conference. The 2018 conference will take place from June 26-28 at the McEnery Convention Center in San Jose, California. Triad will share the Expo Floor with more than 300 exhibitors showcasing the latest in sensor and sensor-adjacent technology.

What is the Sensors Expo & Conference?
For more than 30 years, engineers and other engineering stakeholders such as journalists, scientists, researchers, procurement/supply chain managers, and investors have gathered at the Sensors Expo & Conference to explore the latest innovations in sensors, connectivity, and other related technologies. Each year, the conference explores the latest innovations in sensor technology and the uses of sensors across various industries.
This year's conference tracks include designing for the industrial and embedded IoT, energy harvesting and power management, flexible and wearable tech, IoT and wireless, machine learning and AI, measurement and detection, MEMS and sensors, optical sensing and detection, sensor applications, and simplifying complex sensor data.
The keynote speakers at this year's conference are Marc Pollefeys, the Director of Science at Microsoft, and Dr. Carol Stoker, Astrobiologist for the NASA Ames Research Center. Pollefeys will lay out the future of machine-human interactions, while Dr. Stoker will discuss how the latest sensor technologies can aid in the search for life on other planets in our solar system.
Thousands of attendees will find countless networking opportunities, educational panels, and fascinating product displays to help them discover new innovations, products, and partners to integrate into their operations.
Visit Triad Magnetics on the Expo Floor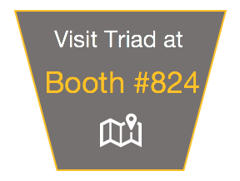 Triad Magnetics can be found on the Expo Floor in Booth #824, where we'll be showcasing many of our product offerings for a wide range of industries. The applications of magnetics in sensor technology are nearly as broad within the sensors sector as the applications of sensor technology are in the broader business world. Our carefully selected displays will feature all of the standard and custom magnetics solutions and relevant magnetics technologies that a design engineer could hope for.
Triad Magnetics has been in business for more than 60 years. We started off building amplifiers, but we soon found our products in high demand for use in brand name appliances. Today, our standard and custom magnetics solutions can be found in a number of items within any home. Triad Magnetics' custom magnetics components have even been to the moon and back on several Apollo missions.
Since our inception, Triad Magnetics has been at the forefront of the magnetics industry. Spurred by our longstanding commitment to progress, we're excited and honored to show you what we have to offer once again at the Sensors Expo & Conference 2018.
Learn More
Our experience designing and manufacturing magnetic components for the sensors field is extensive, so feel free to stop by Booth #824 and discuss your custom magnetics needs or tell us about your latest project. We can guarantee you'll find something that will interest you.
To learn more about Triad Magnetics or Sensors Expo & Conference 2018, please don't hesitate to contact us, and feel free to download a complimentary expo pass by clicking on the button below!