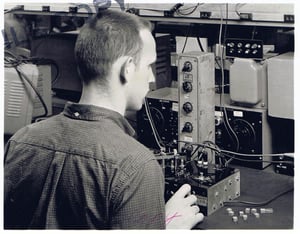 Triad Magnetics is pleased to announce that Jim Tracy has marked sixty years with the power supply and magnetics company. Jim, or JT as he is known to colleagues, joined Triad on January 19, 1959, when the emerging transformer company was primarily a military contractor based in Venice, CA. In his six decades with Triad, JT has been a vital part of the company's sales growth and has seen incredible technological change and innovation.
Bill Dull, President of Triad, says: "We are so lucky to have JT's wealth of experience and knowhow. Those of us here at Triad often depend on his sharp memory when we have a customer asking about a 'legacy' Triad part. We can show him a picture, or give him an old Triad part number, and JT can tell us the whole story. His knowledge is unmatched."
JT's background with Triad is a journey through electronics history. JT joined Triad in 1959 when the company began to expand beyond its WWII-era military industry contracts. In the 1950's, Triad partnered with Fender guitar to create the world's first 100W output transformers, an audio revolution for amplifiers at the time. "All of the Fender amps in the 50's contained a Triad transformer," JT says with pride. JT remembers the excitement of meeting Leo Fender at the Triad factory and the enthusiasm about the company's associations with artists like surf guitar legend Dick Dale.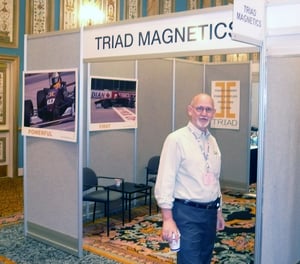 Triad next helped transform the television industry by creating deflection yolks that enabled advances in color TV technology. Triad parts were in all Zenith, Magnavox, Sears, and JC Penney televisions when color TVs began to enter the marketplace. "Our groundbreaking designs helped make color TV possible," says JT.
But the innovations at Triad didn't stop there. Some of the earliest transformers for microwave ovens were developed by Triad in the late 1960's. "A Triad transformer was in every microwave originally made for home use," says JT. He vividly remembers the day he booked his first million dollar order with Litton microwaves, a highlight of his sales career.
The 1960's were also the era of the "Race to Space," and Triad was influential in helping get NASA to the moon. Triad's SP series of audio products was developed for low power audio and telemetry in unmanned space flights, and then utilized in the Apollo mission. JT says, "The SP series was definitely ahead of its time. The design was so innovative, it's still being used in space flights today. The high grade, reliable audio in such a small space still stands the test of time."
Hand-held calculators were also invented and refined in the 60's, and Triad's power supplies were a major component in this new technology. The 70's brought Triad innovations in electronic ballasts for bus lighting systems. General Motors was Triad's largest customer at the time, and their vehicles dominated the industry. "If you were on a bus at that time, you had a Triad ballast in the lights," says JT.
JT remembers all these early years vividly as a time of great technological advances and excitement in the transformer and power supply industry. Now, as he marks 60 years since joining Triad, he's thrilled to still be a part of the growth and expansion that Triad has continued to generate over the last decade. With new and innovative designs in the medical, lighting, and alternative energy markets, Triad's experience as a leader in the industry has been backed by the knowledge of long-term employees like JT who carry on the tradition of excellence. And the early legacy of Triad in audio is still going strong. "Our output transformers have been touring with the Eagles, amplifying the guitars of Joe Walsh. And Triad is also amplifying the strings of Brad Paisley, a premier Country/Western performer," says JT with excitement.
Says Triad President Bill Dull, "Please join me in congratulating Jim Tracy on his many years of service to Triad and the transformer and power supply industries. Happy anniversary JT, and many more returns!"
Learn More
Triad Magnetics is an ISO 9001:2015 certified manufacturer of standard and custom magnetics solutions. We offer a wide range of industry-leading products for customers across a diverse industry landscape, including audio, medical, industrial and commercial equipment, power conversion and measurement, renewable energy, food and beverage, and more.
To learn more about Triad's involvement in the audio industry, or to see how we can help you with your next project, feel free to contact our experts today.