With a modular design featuring four interchangeable input prongs for use around the globe, the highly versatile WSX Series Wall Plug-In Power Supply from Triad Magnetics offers exceptional flexibility, performance and value in a device meeting the latest Level VI energy efficiency requirements.
Developed for electronics designers addressing the international market, the WSX Series supports electronic equipment power applications in the Americas, Europe, and Asia-Pacific. Four different input electrical prongs easily snap into the back of a common case for wall plug-in power anywhere the user goes.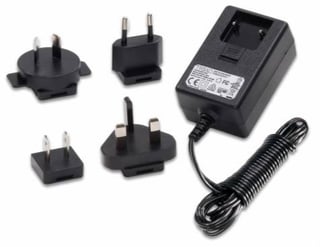 The WSX Wall Plug-In Power Supplies feature an advanced design with the latest switching topologies that meets or exceeds the Level VI requirements of U.S. EISA 2007, European Union 2005/32/EC and the California Energy Commission (CEC). Their green-friendly design helps reduce energy consumption by electronic devices, which results in the carbon-based greenhouse gases that are a cause of global warming.
The WSX Wall Plug-In Power Supplies consume up to 25 percent less power than traditional 50/60 Hertz power supplies, with an average typical efficiency of 88% per the Level VI efficiency requirements. Their clean compact surface mount construction reduces their package size by up to 50 percent and their weight by 70 percent, as well as providing superior reliability, quality and long-life.
Available in 18 different models with Triad's 5-year warranty, the WSX Wall Plug-In Power Supply Series features an input range of 100 to 240 Vac, 50-60 Hz. Output voltages are from 5 to 24 Vdc; 24 W maximum. Regulation (line and load) is ±5%. No load power (standby) is < 100 mW.
For additional information regarding our wall plug in power supplies you can download our WS / WSX Series product catalog here»