Complex electronics sometimes create stray electromagnetic fields, which can interfere with the performance of other electronics. This problem is especially prevalent in confined spaces like hospital rooms and surgery floors, and interference can be even more dangerous when it applies to delicate tools such as health monitoring equipment.
Medical facilities get around these problems by using equipment that operates via medical-grade isolation power transformers whenever possible. Medical-grade isolation power transformers reduce the interference caused by stray electromagnetic fields, and they also protect sensitive components from fluctuations in electrical discharge.
Medical-Grade Power Transformer Applications
Power transformers play an important role in all kinds of medical equipment. Everything from electronic dental tools to medical lab equipment and heart monitors needs power transformers in order to function properly. Medical equipment also requires a stable power supply that's protected from power surges and fluctuations.
Some of the most common applications for medical-grade isolation power transformers include:
MRI and CAT scan machines
Portable medicine drip controls, oxygen pumps, and hospital beds
Monitoring equipment in labs and hospital rooms
Triad Magnetics Standard Products Series
Triad Magnetics designs a diverse range of medical power transformers that helps keep medical equipment secure from adverse electrical charges. We specialize in toroidal medical transformers and medical-grade isolation transformers, with more than 50 different models available to meet a wide array of medical applications.
Toroidal Medical Transformer Series (VPM)
We design our toroidal medical transformers to reduce interference from stray electromagnetic fields. Unlike traditional EI transformers, toroidal medical transformers increase the efficiency of their host systems while simultaneously reducing the amount of space these components consume. Toroidal medical transformers are fitted with flux bands, which provide an additional layer of defense against stray fields between primary and secondary coils. Flux bands also reduce leakage current and interference from common mode signals—an aspect which is growing in importance as hospitals, residents, and visitors increasingly bring electronic equipment into concentrated areas.
We build 49 different models of standard toroidal medical transformers, and each can be configured for a wide variety of applications. They offer primary lead wires that work at 100, 120, 208, 200, or 240 V and 50/60 Hz, and also secondary lead wires with currents ranging from 6 to 240 V. All primary and secondary lead wires include a dielectric isolation of 4,000 V.
Our toroidal transformers meet the following safety standards:
UL: File E122529, UL 60601-1/(R) 2012 Medical Electrical Equipment - Part 1 with 2 MOPP
cUL: C22.2 No. 60601-1:14, Medical Electrical Equipment - Part 1
CE: ES 60601-1 (IEC 60601-1:2005, MOD)
CB: Certified
Medical-Grade Isolation Transformer Devices (MD)
Just like the toroidal medical transformer series, our medical-grade isolation transformer devices help keep electronics safe from stray electromagnetic fields. These medical-grade isolation boxes include toroidal transformers and are constructed from powder-coated white steel to enhance their functionality and aesthetic appeal.
Medical-grade isolation boxes are fitted with insulation materials to protect them from surges and electromagnetic fluctuations. They can operate at 92–94% efficiency at full load, depending on the model. They also include Class F insulation systems that withstand temperatures of up to 155°F.
Medical-grade isolation boxes are rated for maximum power ranging from 250 to 2,400 V-A. Depending on the model, each medical-grade isolation transformer has an input level between 120 and 240 V and an output of 120 V.
Our medical-grade isolation transformer devices are built to meet the following safety standards:
UL 60601-1, 2nd edition medical standard
CSA-C22.2. No. 601.1M90, 2005 UL: (E352717), UL 60601-1, 2nd edition
CAN/CSA22.2 No. 601.1M90, 2005
Custom Medical-Grade Power Devices from Triad Magnetics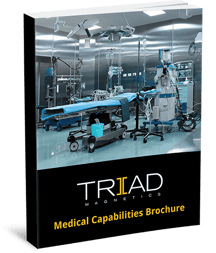 Triad Magnetics has over 60 years of experience creating magnetic and electronic equipment for a diverse array of industries. In addition to our standard product transformers and isolation boxes,our engineers can also design custom products to fit any unique specifications. View one of our case studies of a successful custom medical design.
Whether you're looking for a reliable standard product, or a custom-designed power transformer for medical applications, Contact us today to learn more about how we can offer design top-quality electromagnetic equipment for your next project.