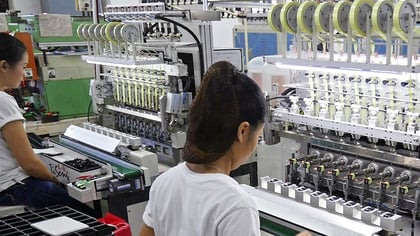 When sourcing a standard or custom transformer, it is essential to choose a quality manufacturer to ensure the product functions as intended. However, given the large number of potential options available, selecting the right one can be challenging. In the following blog post, we provide an overview of some of the key factors to consider when vetting transformer manufacturers to help you choose one for your application. Additionally, we outline why Triad Magnetics is an ideal manufacturing partner for all transformer needs.
Key Considerations for Selecting the Right Transformer Manufacturer
There are many factors to keep in mind when selecting a transformer manufacturer, including:
Manufacturer Reputation and Commitment to Quality
Regardless of whether you require a standard or custom transformer, the manufacturer you choose should have the knowledge and skills to produce a product that meets your quality standards.
At Triad Magnetics, quality is at the core of everything we do. This commitment drives us to continuously analyze and improve our products and processes to ensure we consistently deliver superior products and services to our customers.
Product Capability
In addition to product quality, product performance is critical. The manufacturer you choose should be able to create a transformer that fully meets your application requirements.
At Triad Magnetics, we have extensive experience in the design and manufacture of transformers. The knowledge garnered for this experience enables us to meet virtually any transformer need. Additionally, it allows us to adapt to any part design changes effortlessly.
Production Capability
Product manufacturers with production capacities at—or just above—the volume you require now may limit your growth should your demand increase in the future. When sourcing a transformer manufacturer, select one who can handle more than your current demand. In doing so, you can spare yourself the headache of having to find a company with greater capacity in the future.
At Triad Magnetics, we offer standard and custom manufacturing capabilities for both low and high volumes. We can easily support your production logistics, ensuring you get the products you need when you need them.
Local and Domestic Engineering Support
Local and domestic engineering support allows for quicker response to customers designing a custom transformer or having issues with an existing one. Manufacturers who outsource engineering support services to other companies—whether domestic or international—may have customers that experience difficulty reaching an engineer and/or communicating the issue to one who does not fully understand the product.
At Triad Magnetics, our team is dedicated to answering and addressing any customer questions or concerns. They are available from design to delivery to ensure the finished product—whether it is a toroidal power transformer, a laminated power transformer, or another type of transformer—fully meets specifications.
Financial Health
The financial state of a transformer manufacturer is important. One that is financially stable is more likely to remain in control of its own manufacturing operations. This characteristic allows it to produce quality products to the specifications needed when needed.
At Triad Magnetics, we manufacture all of the transformers we deliver ourselves. In addition to offering over 1,000 standard products, we provide extensive custom design and manufacturing services to customers with highly specific or unique requirements.
Triad Magnetics: The Ideal Partner for All Transformer Needs
Whether you need a standard or customer transformer, ensuring you get a quality one necessitates partnering with a quality manufacturer. Ideally, the manufacturer you partner with should be able to produce a transformer that fully meets your needs at the best possible value and with the fastest possible lead time.
At Triad Magnetics, we are committed to providing superior transformer products and services to our customers. Our dedication to quality ensures that each finished piece remains true to the original design specifications.
To learn more about our commitment to quality, check out our eBook, Why Is Quality Important?. For additional information about the considerations that go into designing and manufacturing a custom transformer, view our eBook, Custom Magnetics Buyer's Guide.
For more information about our capabilities, contact us today.