What Is An Audio Transformer?
Audio transformers are electronic devices that transmit frequencies within the audio band. They are used in audio amplifier circuits to:
Increase or decrease signal voltage
Increase or decrease circuit impedance
Convert a circuit from balanced to unbalanced (or vice versa)
Allow AC current to flow through and block DC current
Isolate one device from another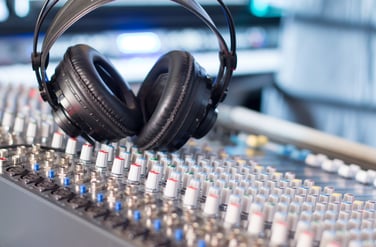 Applications of audio transformers include use with microphones during the input stage, loudspeakers during the output stage, and amplifiers for interstage coupling and impedance matching. Regardless of their stage of employment, when using an audio transformer, there are several factors—such as power capacities, primary and secondary impedances, and frequency response—to keep in mind to ensure optimal performance.
As a leading provider of specialized magnetics products, Triad Magnetics understands all of these nuances. Our broad experience in the custom magnetics product market affords us insight into proper design, building, and selection practices for audio transformers, allowing us to pass along our expertise to our customers.
Triad Magnetics' Legacy in the Audio Industry
At Triad Magnetics, we have deep connections to the audio and sound processing industry. We've made several significant contributions to the industry, including legacy products that have long been a staple in audio and sound studios including the recently re-released legendary J Series of audio transformers. Our reputation for innovation goes back to our company's beginning. Not long after we were founded in the 1950s, we helped to revolutionize amplifier technology. Our team, working with Leo Fender, created the world's first 100W output transformer, pushing past the limits of what magnetics had previously achieved. From there, we left behind a trail of audio industry accomplishments in our wake, including:
Partnering with Fender (a guitar manufacturer) and Dick Dale (the surf-rock pioneer) to turn our 100W output transformers into the world's first 100W guitar amplifier
Designing transformers for the professional broadcast and recording industry.
Establishing the company as a leading audio transformer supplier for television manufacturing during the television boom
Developing and providing products for low power audio and telemetry in unmanned space flights and, later, the Apollo mission
The latter point is one we are particularly proud of, as—without Triad—NASA may never have reached the moon. Jim Tracy, a sales manager who has been with us for 60 years, once said, "The SP series was definitely ahead of its time. The design was so innovative it's still being used in aerospace products today. The high grade, reliable audio in such a small space still stands the test of time."
At Triad Magnetics, we take pride in our long and close history with the audio industry. While our past contributions have helped the industry advance to where it stands today, we hope to continue to grow it even further.
Audio Transformers From Triad Magnetics
Among our standard product offerings, we manufacture 41 unique, high-quality audio transformers. Each of these transformers is available off the shelf for immediate delivery. Our designs can be categorized into three varieties:
Red Spec Printed Circuit Audio Transformers
These highly reliable transformers offer precision and durability. They are manufactured with epoxy molded cases and gold plated leads. With an operational range of 300 Hz to 100 kHz, they are ideal for a broad selection of applications.
Plug-In PC Audio Transformers
These transformers are designed for use in printed circuit (PC) designs. Their high versatility makes them suitable for use in a wide range of applications, including input, isolation, line matching, telephone coupling, pulse trigger, and interstage coupling.
J Series Professional Audio Transformers
Triad meticulously followed the original design and construction details including paper section windings, high-nickel laminations and specially tooled mu-metal shield can for this recently released series of audio transformers. Originally released in 1950 Triad's J Series transformers permitted amplifiers to exceed broadcast standards closely approximating the performance characteristics of more costly hermetically sealed units.
Data/Voice Coupling Transformers
These telecommunication transformers are designed for devices that use the dial-up switched telephone network. They are found in applications that involve isolation, repeat coil, impedance matching, bridging, hybrid circuits, and line balancing.
Custom Audio Products From Triad
Equipped with over seven decades of experience in the custom magnetics industry, the Triad engineering team has the skills and knowledge necessary to design and build high-performance custom audio transformers for the audio and sound processing industry. Whether a customer needs multilayer section winding or multi-electrostatic shields with interleaved windings, we can deliver a custom solution that meets their exact audio needs.
Some examples of custom products we produced in the past include:
A shielded audio transformer for sound processing. When approached by a customer looking for a replacement for their existing 30-year old component, we were able to design and build an exact replica that worked seamlessly with their legacy equipment.
A professional audio transformer. A company in the audio interface sector came to us with a request for a transformer suitable for professional audio applications. Using multi-electrostatic shields with interleaved windings, our team created a high-performance transformer that offered flawless harmonics.
To learn more about our standard and custom audio transformer offerings, contact us today. If you need help with your next project, our experts are here to help.