Triad Magnetics is pleased to announce that our new 2018 catalog is now available for download on our website.
More expansive and more detailed than ever before, this year's catalog is filled with 96 pages of Triad's top-of-the-line products — including our custom magnetics, transformers, power supplies, LED drivers, inductors, and chokes.
New Catalog Features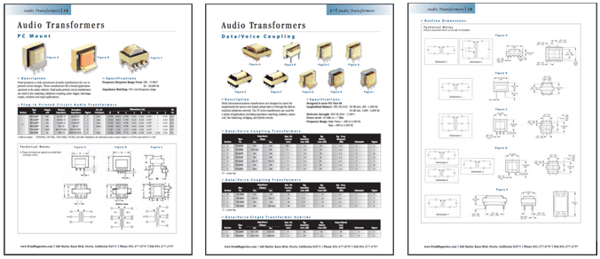 As always, we've designed this year's catalog with our customers top-of-mind, making it even easier for electronics engineers to find the right standard or custom product for their unique application — whether they're working in power conversion, filtering, or isolation. Our easy-to-use, intuitive catalog also features color photos and detailed technical data for hundreds of products, allowing users to get a complete picture of our products.
The 2018 catalog includes circuit schematics and outlines, as well as dimensional drawings, in order to provide all the information necessary for quick, easy product comparison. Details about our design kits have also been included to allow our customers to make the most informed decisions possible.
And to improve ease of searching, we've incorporated an extensive part number index and a parametric search index, sorted by secondary voltages, to help customers quickly find just what they're looking for.
New Products Included

In addition to our existing inventory of products, we're excited to include some of our newest offerings in this year's catalog, including:
CMF Series Dual-Mode Chokes — These new, innovative chokes feature a dual-function design that can effectively combine the features of two separate components into one. Providing significant cost savings, these chokes are highly effective for suppressing both common-mode and differential-mode noise.
Hardwired JSU Series Power Supply Junction Box — Our JSU Series features a compact, secure design for powering essential stationary equipment in both industrial and commercial settings. This unique design prevents wall plug-in power supplies from becoming accidentally disconnected, as the long, tangled cords often inherent in such power boxes are eliminated. In addition, the JSU Series meets the U.S. Department of Energy's (DOE) Level VI electrical efficiency requirements.
Other new products include the WSX Series International Wall Plug-In Power Supplies, the VPM Series Toroidal Medical Transformers and MD Series Medical Isolation Transformers, the AEU Series 65 W Enclosed Switching Power Supplies, and the ABU Series 125 W Open-Frame Switching Power Supplies.
Along with our new products, the 2018 catalog features all of our existing magnetics solutions — showcasing one of the industry's largest off-the-shelf product lines for magnetic components.
And, of course, the catalog also includes our extensive custom design services, which serve clients from initial design, to prototyping, all the way to final testing.
Learn More
Since the 1950s, Triad Magnetics has been leading the industry in quality custom magnetic components. Our facility is ISO 9001:2015 certified, and we are committed to meeting — and even exceeding — the strictest global industry standards to ensure our products and services are as efficient, safe, and high-performing as possible.
Download the new 2018 power solutions catalog here, and feel free to reach out to the team with any questions you may have.