Magnetic components can be difficult to specify. Specifying a custom magnetic component can be even more challenging — with a myriad of different specifications, there is no easy way to know which your prospective manufacturer wants or needs.
Specifying Custom Magnetics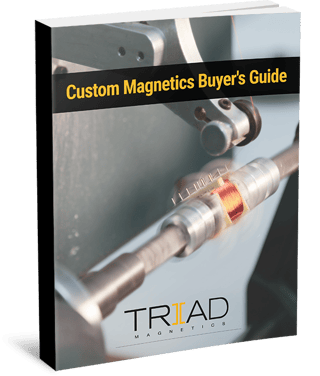 Triad Magnetics' newest eBook, "Custom Magnetic Buyer's Guide," is designed explicitly to help you through the custom magnetic specification process. The guide offers a wealth of information about selecting a suitable supplier and the types of specifications they are likely to require.
After detailing a number of factors you should consider while vetting different magnetics suppliers, the guide goes into detail about the technical requirements that most suppliers will request. These include standards such as input and output voltages, whether a power transformer is what you need, and the frequently overlooked specifications including available space and mounting methods.
It also discusses a number of specifications that many magnetic component suppliers are unlikely to ask but can prove extremely useful if available. For example, knowing the environmental conditions in which a product is expected to be used can go a long way in helping a magnetics design engineer satisfy other design requirements and potentially even simplify your component.
Learn More
Custom magnetic components can be very complex. Design factors include everything from material choice to voltages and currents to environmental considerations. To learn more about selecting the right magnetics supplier for you, and how to provide them with the most complete and helpful specifications, download "Custom Magnetics Buyer's Guide" for free today.